Build Strength And Learn The Best Striking Skills In Our Fitness Kickboxing Classes
If you're looking for a high-energy workout that combines the best aspects of fitness training and self-defense, we've got you covered at Paulo Ribeiro Brazilian Jiu-Jitsu.
Our new Cardio Conditioning Kickboxing classes start in JULY, and will teach you how to strike with power while pushing you to get in great shape in no time. Enjoy the benefits of individualized coaching in an intimate, supportive setting so that you can reach bigger goals faster.
Join us in Naples today for the best Fitness Kickboxing around! Simply fill out the short form on your screen to learn more!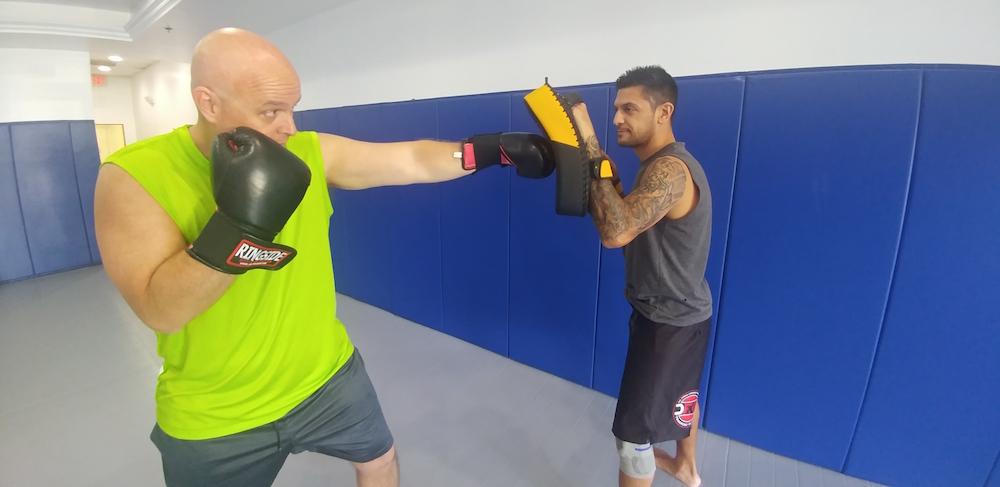 Our Fitness Kickboxing Classes Help You Build Confidence In Your Self-Defense Skills For Any Situation
Sure, we have a great time in our Fitness Kickboxing classes. But more importantly, we help everyday men and women learn how to strike with their hands, feet, shins, and elbows.
Whether you face danger in a real-world situation or you're hoping to show off your moves in front of a few friends, our Fitness Kickboxing classes have the answer. Our small-group atmosphere makes it easy to get the instruction you need to maximize your results.
When you join us in Naples, you take on high-energy workouts that are always changing. Our Kickboxing classes teach the following:
HIIT and circuit training
Situational awareness
Balance, speed, and efficiency
Total-body coordination
Pad's and drill training
And Don't Forget: This Is The Best Workout In Town!
Thinking about an afternoon on the treadmill? Why not engage with a dynamic, high-energy workout curated by world-class martial arts instructors instead?
Our Fitness Kickboxing Classes work because they keep your mind off of how hard you're working. You'll be able to enjoy real results and get all the benefits of our supportive and uplifting community. As you learn the best self-defense skills, you also master the art of total-body fitness.
And each class is different from the last so you'll never get bored and never risk the dreaded plateau.
Join us today and enjoy:
Boosted strength and muscle toning
Improved athleticism and confidence
Incredible energy levels in your daily life
Much-needed stress relief
Get Started Today With The Best Fitness Kickboxing Classes In Naples!
If you're looking for a new way to train, look no further. Our Fitness Kickboxing Classes in Naples have helped everyday men and women find fitness success and learn real-world self-defense in no time. Plus, our proven small-group coaching methods guarantee a comfortable environment where you'll always get personalized instruction.
Just fill out the short form on your screen to get started today! A member of the Paulo Ribeiro Brazilian Jiu-Jitsu team will be happy to answer all of your questions right away!