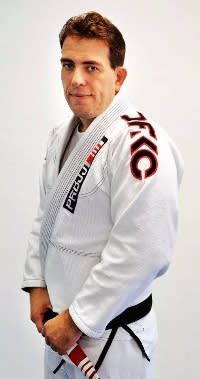 Paulo Ribeiro
Paulo Ribeiro Brazilian Jiu-Jitsu school is a dream come true. Opened since September 2008, our school has acted upon the responsibility of being a true representative of authentic Brazilian jiu-jitsu. We are a growing number of students of all ages, gender backgrounds, building a diverse brotherhood committed to the lifelong journey of self-mastery provided by Brazilian Jiu-Jitsu.

Our website is just a virtual extension of our school. Here you find tons of information about us, our programs, our classes and our sport. If you are not yet a PRBJJ member, contact us to schedule your intro class. You too can benefit from the BJJ lifestyle.

~ Professor Paulo Ribeiro (Head Instructor)

Professor Paulo Ribeiro is a 4th degree Brazilian Jiu-Jitsu Black Belt as well as a Judo Black belt, he was born in Sao Paulo, Brasil on March 31, 1978. He has trained in many disciplines throughout his life but has always held Brazilian Jiu-Jitsu close to his heart. He has traveled the world competing. He moved to Naples FL. after marrying his wife Natalie and shortly after started Paulo Ribeiro Brazilian Jiu-Jitsu Team, a Black Belt instructed school. It is one of the very few Black belts instructed and IBJJF certified schools in SWFL. Professor Paulo really enjoys what he does and wants only to share his passion and lifestyle with others.
Athletic Achievements:
7x Maceio, Alagoas Champion


3rd place Sul Americana 2007


3rd place Pan American 2008


2nd Place Abu Dhabi Pro Trial 2013


2nd place Miami Open 2013


2nd place Miami Open 2017


3rd place Miami Open Absolute 2017


2nd place New York Pro 2017


3rd place New York Pro Absolute 2017